Rep. Cam Cavitt puts Michiganders first, stands firm against latest attempt at corporate welfare
State Rep. Cam Cavitt on Wednesday voted against Legislative Transfer Requests 2023-1 and 2023-2, which give $535 Million in taxpayer funding to large corporations for various battery plant projects in southern Michigan.
"Our state's resources should be used to support our citizens, not Chinese corporations," said Cavitt, of Cheboygan. "I cannot in good conscience support a proposal that would provide blatant corporate welfare while our schools and infrastructure are in dire need of funding."
The legislative transfers in question take money out of the Strategic Outreach and Attraction Reserve (SOAR) Fund to give $210 million to Ford Motor Company for a new electric vehicle battery manufacturing facility in the City of Marshall, $200 million to Our Next Energy for a battery plant in Wayne County and $125 million to Gotion Inc. for a battery plant in Mecosta County. Ford plans to partner with CATL, a Chinese battery company with ties to the Chinese Communist Party.
"I understand the desire to attract businesses to our state, but we should be prioritizing local businesses – not just the largest and most powerful," Cavitt said. "We must invest in our own workforce and communities here in Michigan, rather than provide handouts to foreign corporations that are already making record profits."
Rep. Cavitt urged his colleagues on the Appropriations Committee to focus on investing in education, infrastructure, and job training programs that will benefit all citizens and help build a strong and vibrant economy in the state.
"I will continue to advocate for policies that put the needs of Michigan's citizens first, and promote sustainable and equitable economic growth," Cavitt said.
Cavitt is a member on the House Appropriations Committee, where he serves on the subcommittee on Environment, Great Lakes and Energy.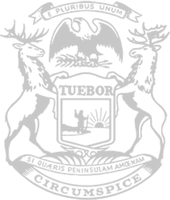 © 2009 - 2023 Michigan House Republicans. All Rights Reserved.
This site is protected by reCAPTCHA and the Google Privacy Policy and Terms of Service apply.