Rep. Borton: Voices of northern Michigan ignored with passage of dangerous energy package
State Rep. Ken Borton, R-Gaylord, today issued the following statement after House Democrats passed their radical green energy plan. The plan imposes unattainable green energy mandates and strips local government of the ability to regulate solar and wind projects.
"House Democrats pressed their green boots into the throats of Northern Michigan as they passed these bills today. This plan destroys the ability of local government to regulate wind and solar projects. Instead of letting local officials do their jobs, the legislation hands all power over to a commission of three unelected bureaucrats appointed by the governor. The commission have zero incentive to listen to the public, effectively silencing all protest to wind and solar projects.
"The plan forces dangerous mandates onto our state and allows utility companies to force massive bill increases onto our friends and neighbors. Democrats have been clear; they're okay with forcing families already struggling with inflation to pay more on their electric bills.
"Northern Michigan stood against this terrible legislation, and I am proud to stand with them."
###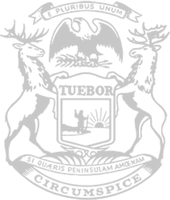 © 2009 - 2023 Michigan House Republicans. All Rights Reserved.
This site is protected by reCAPTCHA and the Google Privacy Policy and Terms of Service apply.