Rep. Borton: Northern Michigan tourism will benefit from budget efforts
State Rep. Ken Borton today highlighted Northern Michigan transportation, infrastructure, and natural resources projects that he supported in a series of budget votes last week.
Borton, R-Gaylord, and the Michigan Legislature on Friday approved the annual budget, which saved billions of dollars for possible tax relief, following a Thursday vote to pay for various land acquisition and development projects through the state's constitutionally required Natural Resources Trust Fund.
"Northern Michigan communities contain so many outdoor and indoor tourist attractions — for winter and summer vacations," Borton said. "Whether ferrying people to Beaver Island, improving water treatment for local businesses, or sprucing up state and local parks, both the annual budget and natural resources funding will support tourism in our area."
In House Bill 5783, which houses the annual state budget for the upcoming fiscal year, Borton secured $3.5 million for improvements to a wastewater treatment plant in Gaylord, which services a local resort. Upgrades will protect the environment by ensuring the plant can process existing and increased capacity. Borton, who serves as majority vice chair for the House Appropriations Subcommittee on Transportation, also praised $14 million that will help purchase a passenger ferry to carry people to and from Beaver Island.
Borton announced three outdoor projects funded by Senate Bill 1028, which allocates funding from the Natural Resources Trust Fund. The plan will provide $300,000 to help Antrim County replace a 0.39-mile stretch of the boardwalk river access trail at the Grass River Natural Area. The project will widen the trail for accessibility, add an accessible kayak launch and observation platforms, and enlarge the dock area. Another $300,000 will help develop non-motorized paths for bicycle and foot traffic through Boyne City Open Space, an ongoing park project at Lake Charlevoix. Finally, $950,000 will help the state acquire a 404-acre parcel of land in the Pigeon River Country State Forest, where visitors could camp, hike, hunt, fish, canoe, and participate in other outdoor activities.
The governor is expected to sign both bills.
###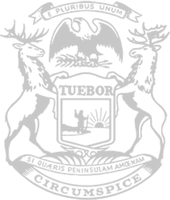 © 2009 - 2023 Michigan House Republicans. All Rights Reserved.
This site is protected by reCAPTCHA and the Google Privacy Policy and Terms of Service apply.