Rep. Bierlein: One-time checks fail to provide people with lasting tax relief
RELEASE
|
February 10, 2023
State Rep. Matthew Bierlein, of Vassar, on Thursday voted against a proposal that House Democrats loaded with additional spending and featured accounting tricks to block a long-awaited income tax cut.
Under a Michigan law, the individual income tax rate will be cut this year due to a steep increase in the amount of taxpayer dollars available to state government.
However, the advancing House Bill 4001 redirects funds toward one-time $180 checks in a way that would prevent a long-lasting tax cut from taking effect. The income tax cut would return an estimated $700 million annually to Michigan families, seniors and small business owners as they struggle with rising costs.
"This sideways, short-sighted scheme is a slap in the face to so many who are struggling to make ends meet," Bierlein said. "The rebate checks in this plan amount to 49 cents per day. That's not a long-term solution to helping people keep more of what they earn. It's going to do little to help them with high costs at the gas pump or at the checkout line in the store. It's small peanuts compared to the billions of dollars corporations will be getting over time through this bill.
"The Legislature had a chance to deliver real tax relief but got distracted by politics and pork. That isn't helpful to people's day-to-day budgets and doesn't respect their tax dollars."
Bierlein also criticized Democrats for silencing debate on the House floor prior to HB 4001 being voted on. The first-term legislator said the move continues a troubling trend of discarding discourse and robbing representatives of the people from constructive and needed conversation.
"People sent us to Lansing to be their voice, not to be reduced to a mannequin," Bierlein said. "I will continue to fight for voices in Bay, Genesee, Saginaw and Tuscola counties and a fair legislative process."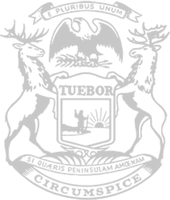 © 2009 - 2023 Michigan House Republicans. All Rights Reserved.
This site is protected by reCAPTCHA and the Google Privacy Policy and Terms of Service apply.