Rep. Beau LaFave to file lawsuit in response to Governor Whitmer's attack on Michigan pro-life law
State Rep. Beau LaFave today blasted Governor Whitmer for filing a lawsuit to legalize all abortions from the moment of conception to the moment before birth in Michigan.
The suit, filed in Oakland County Circuit Court, asks the court to declare a constitutional right to kill the unborn. In response, LaFave will be filing a lawsuit of his own to defend Michigan's pro-life law.
"I plan to file a lawsuit to defend the strongest pro-life law in the country against the predations of radicals like Gretchen Whitmer and Planned Parenthood," said LaFave, of Iron Mountain. "I have always sought to protect the sanctity of human life. Every human life is worth fighting for."
In related news, the U.S. Supreme Court recently heard oral arguments in Dobbs v. Jackson Women's Health Organization. The case deals with a Mississippi law generally prohibiting abortions after 15 weeks of pregnancy, and it could lead to the court striking down decisions in Roe v. Wade and Planned Parenthood of Southeastern Pennsylvania v. Casey, which asserted a constitutionally guaranteed right to abortion.
Legislators from 35 states, including Rep. LaFave, of Michigan, submitted an "amicus curiae" brief in Dobbs arguing the court previously invented a supposed right to abortion not found in the Constitution. Rep. LaFave said the decisions interfered with the constitutional authority of the peoples' representatives to pass laws to protect the people of their states, including by preventing abortion.
###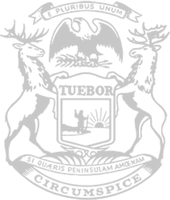 © 2009 - 2023 Michigan House Republicans. All Rights Reserved.
This site is protected by reCAPTCHA and the Google Privacy Policy and Terms of Service apply.