Rep. Alexander stands up for local control, agriculture industry amidst reckless green energy initiatives
State Rep. Greg Alexander is standing up for residents and small business owners by opposing a partisan plan that will radically alter Michigan's energy policy by raising electricity prices, diminishing local input and threatening grid reliability.
Measures approved by House Democrats today would strip control away from local communities concerning the siting and construction of large-scale solar and wind energy projects. Under these plans, the unelected Michigan Public Service Commission could force the projects on local communities with little regard for residents' concerns, and people would have no ability to hold the unelected commission members accountable.
"I have seen the immense pushback these projects can experience locally. People in many areas of the state are clear that they don't want this type of development in their communities," said Alexander, of Carsonville. "I have also seen the unrelenting litigation that ties up communities for years regarding siting and permitting – costing taxpayers money in the process. We're setting ourselves up for significantly more headaches by letting bureaucrats be the driving force for this development and not local officials and residents who know their areas best."
Alexander proposed a pair of amendments to the plan that would protect Michigan's prominent agriculture industry. One would have allowed top agricultural producing counties to be exempt from the MPSC's overreach, but they were not adopted by the Democrat majority.
Other plans call for utilities to have 100% clean energy by 2040, with several other mandates that will also increase costs. The mandates are similar to those issued in California that resulted in rate hikes, an unreliable energy grid, and widespread blackouts.
A recent analysis published from the Mackinac Center disclosed that a net zero energy plan could cost Michigan rate payers upwards of $200 billion overall in additional energy costs.
"We are not even sure if we will have the capability and infrastructure to meet these benchmarks," Alexander said. "The mining and manufacturing process for solar panels and wind turbines also raise environmental concerns because of the methods that are used.
"This is an irresponsible and impractical plan that hits on a lot of talking points, but has a laundry list of implementation issues. We can't gamble on grid reliability and make it even less affordable for people to cook and heat their homes – and these plans take us in that direction."
Each of the bills were ultimately approved by the House along party lines. House Bills 5120 and 5121 now advance to the Senate for further consideration. Senate Bills 271, 273 and 502, the clean energy mandates, will soon be presented to the governor for her expected signature.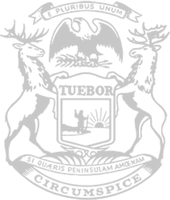 © 2009 - 2023 Michigan House Republicans. All Rights Reserved.
This site is protected by reCAPTCHA and the Google Privacy Policy and Terms of Service apply.