Michigan House approves Rep. Griffin's plan to help military personnel transition to civilian jobs
The Michigan House of Representatives today overwhelmingly approved Rep. Beth Griffin's plan to help military veterans obtain civilian jobs.
Griffin's legislation will help ensure that occupational licensing examination and registration fees for skilled trades, health care and other positions are covered by the federal Post-9/11 Veterans Educational Assistance Act – better known as the GI Bill.
"The debt we owe our military veterans can never be repaid," said Griffin, chair of the Workforce, Trades and Talent Committee. "The least we can do is make sure military veterans receive the support they need when they are back in civilian life. Our plan will make sure the federal GI Bill works as well as it can for military veterans and their families."
Griffin's legislation would ensure that the costs of occupational tests and registration fees required by the state are covered by the GI Bill. The Department of Health and Human Services and Licensing and Regulatory Affairs would be required to work with the Department of Military and Veterans Affairs to fulfill the legislation's requirements. Military members could be reimbursed up to $2,000 per test, but could not receive more than the actual cost of the test.
"The members of our Armed Forces gain extremely valuable skills during their service – skills that often fit perfectly into the private sector," Griffin said. "This proposal is one way to ease the transition and help our veterans support themselves and their families."
House Bills 5433-5435 advance to the Senate for consideration.
###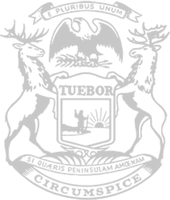 © 2009 - 2023 Michigan House Republicans. All Rights Reserved.
This site is protected by reCAPTCHA and the Google Privacy Policy and Terms of Service apply.