Mackinac Bridge Authority unanimously backs Rep. Damoose plan to secure critical infrastructure
The Mackinac Bridge Authority on Thursday unanimously supported state Rep. John Damoose's plan to protect Michigan's major infrastructure by heightening penalties for illegal entry.
At a meeting on Mackinac Island, the board adopted a resolution expressing strong support for Damoose's House Bill 5315, which would add the Mackinac Bridge and other bridges and tunnels to the list of key facilities where illegally entering or remaining on the premises is a felony punishable by up to four years in prison and a $2,500 fine. Representatives for the bridge authority previously testified before House of Representatives and Senate panels in favor of the legislation, and Damoose said he is grateful for the support reiterated in the resolution.
"The Mackinac Bridge Authority helps make this iconic bridge secure and crossers safe, and board members and staff know that stronger penalties for intruders will protect our bridges," said Damoose, R-Harbor Springs. "The bridge authority strongly supports my common-sense legislation to defend our most critical infrastructure, and I'm grateful for the expert input provided throughout the legislative process. I encourage the Senate to take up my plan and approve it. We need to secure our bridges and tunnels against safety risks that threaten harm to people and property, as well as disruption to daily lives and the Michigan economy."
Damoose introduced the bill last year after a person illegally climbed the underside of the Mackinac Bridge while wearing a backpack, causing the bridge to be shut down for about two hours. The person was charged only with a misdemeanor.
The bridge authority's resolution supporting HB 5315 noted the seriousness of intrusion on the bridge, stating that "trespassing on the Mackinac Bridge represents a security risk for bridge operations and the traveling public" and "is dangerous to patrons crossing the bridge as well as to the trespasser."
Damoose's legislation would designate the Mackinac Bridge, Zilwaukee Bridge, Rouge River Bridge, MacArthur Bridge, any movable bridge, and any international bridge or tunnel as key facilities, provided that conspicuous signage is posted to warn against entry to off-limits areas. Under current law, key facilities include locations such as chemical manufacturing facilities, refineries, power plants, hazardous waste storage, cell phone towers, ports, and trucking terminals.
After passing the House with overwhelming bipartisan support earlier this year, HB 5315 was unanimously approved by the Senate Committee on Transportation and Infrastructure last month. The bill is now under consideration by the entire Senate.
###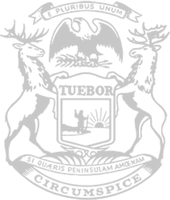 © 2009 - 2023 Michigan House Republicans. All Rights Reserved.
This site is protected by reCAPTCHA and the Google Privacy Policy and Terms of Service apply.