Leader Hall again calls for immediate, long-lasting relief for Michiganders, small businesses
House Republican Leader Matt Hall, R-Richland Township on Monday issued the following statement:
"The governor is starting to follow Republicans' lead in calling for immediate, fair relief for the people of Michigan, but she still won't rule out blocking the automatic income tax rollback for every taxpayer and small business in our state.
"House Republicans laid out a simple plan to provide immediate relief for working families, and fair relief for senior citizens — a stark contrast to Democrats' original proposal that would take years to get many people relief. The governor seems to be moving our way. Last week, she proposed secretly shifting $800 million to corporations, and because of our efforts and a strong public outcry, she's now changing her focus to relief for the people. However, there's still so much we don't know, and we need to protect the permanent, ongoing relief that's teed up for Michiganders and small businesses. Gov. Whitmer says there are no secrets or surprises in her proposal, so why won't she show it to legislators or the people of Michigan?
"The governor once again refused to say whether she'll attempt accounting tricks to obstruct the permanent income tax cut that's headed to every Michigander and small business. She either isn't familiar with the details of her own plan, or she's trying to hide a secret tax hike from the people. Why would the people of Michigan give up a permanent tax cut for a small, one-time payment of $180? Gov. Whitmer must stop dodging and start delivering real, permanent relief to Michigan families."
On the first day of session, House Republicans introduced legislation to provide a retroactive increase to the Earned Income Tax Credit for working families and fairly provide increased savings for working and retired seniors. The Democrats proposed a delayed EITC increase and unfair relief for seniors that would take years to implement. Hall is leading the charge to protect the automatic income tax cut that is expected to take place this year.
###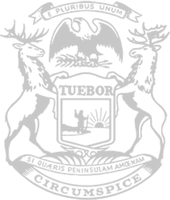 © 2009 - 2023 Michigan House Republicans. All Rights Reserved.
This site is protected by reCAPTCHA and the Google Privacy Policy and Terms of Service apply.