Leader-elect Hall names leadership staff
RELEASE
|
December 15, 2022
House Republican Leader-elect Matt Hall today announced key members of his leadership staff, who will help Republican legislators advance common-sense priorities for the people of Michigan next year.
Hall, of Comstock Township, will appoint Lindsay Young as Republican chief of staff and legal counsel, Gideon D'Assandro as central staff director, Dulce Cardenas as administrative director, Nick Bolger as legislative director, Jeremiah Ward as press secretary, Julie Calley as director of strategy, Derek Robinson as policy director, Zac Obermiller as member services director, Gustavo Portela as communications director, Catherine Edwards as deputy Republican counsel, and Phil Browne as budget director.
"House Republicans have led the way to bring higher-paying careers to our state, make life more affordable for Michigan families, and build stronger and safer communities," Hall said. "Our staff members have been critical partners in Republicans' accomplishments for our state, and I've put together a battle-tested team to help us defend these successes and keep leading our state forward."
Young serves as the policy director under House Speaker Jason Wentworth and previously was his senior deputy legal counsel. She has worked for seven House and Senate Republican leaders since 2009.
D'Assandro has been the press secretary for each of the previous four speakers of the House and the communications director for the House Republican caucus for the past three terms. Prior to that, he worked on former Gov. Rick Snyder's reelection campaign after a previous stint in House Republican communications.
Cardenas is currently Wentworth's legislative coordinator, after previously serving as the executive assistant for two House speakers. Before that, she was director of scheduling for former Attorney General Bill Schuette.
Bolger most recently was legislative director for state Rep. Jim Lilly. He served as a legislative assistant to two speakers of the House, after previously working at a national campaign consulting firm in Washington, D.C.
Ward currently is a communications advisor for House Republicans. He returned to that position earlier this year after working as communications director for former Speaker Tom Leonard's attorney general campaign. Prior to his service in House Republican communications, Ward was a legislative aide to state Sen. Tom Barrett.
Calley is concluding her third two-year term as state representative for the 87th House District, serving constituents from Barry and Ionia counties. She has sponsored new laws to rein in the cost of prescription drugs, enhance Michigan's 911 system, and establish juvenile mental health courts. Before her tenure in the Legislature, Calley served eight years as an Ionia County commissioner, including three years as chair. She also served on and chaired the Michigan Community Service Commission.
Robinson has been a policy advisor for House Republicans for six years, including a stint as deputy budget director. During that time, he has advised legislators on a wide range of issues: taxation, local government, energy, education, and appropriations. Previously, he was legislative director for former state Reps. Jack Hoogendyk, Tom McMillin, and Margaret O'Brien.
Obermiller comes to the House from his current position as the political director for the Michigan Republican Party. Before that, he was the campaign manager for Garrett Soldano's gubernatorial campaign. In 2020, Obermiller was campaign director for the successful reelection campaign of U.S. Rep. Mike Garcia of California.
Portela is the Michigan Republican Party's communications director. Previously, he held several communications roles including senior press secretary, director of media relations, and communications director with Kevin Faulconer, former Mayor of San Diego and California gubernatorial candidate. Portela's prior experience includes political and advocacy work in both Washington, D.C., and Michigan.
Edwards is currently deputy legal counsel and policy advisor in the House. She was previously a law clerk for Judge Brock Swartzle of the Michigan Court of Appeals. Prior to that, Edwards served more than 13 years as an attorney for the city of Grand Rapids, including 8 years as chief city attorney. She also clerked for former Michigan Supreme Court Justice Stephen Markman and former Michigan Court of Appeals Judge Michael R. Smolenski.
Browne will continue in his role as budget director for House Republicans. Previously, he was senior budget advisor for the House Appropriations Committee, after serving as director of government affairs for the Michigan Department of Transportation and deputy chief of staff to former Speaker Jase Bolger.
###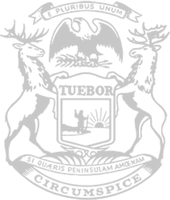 © 2009 - 2023 Michigan House Republicans. All Rights Reserved.
This site is protected by reCAPTCHA and the Google Privacy Policy and Terms of Service apply.