House approves Rep. Tisdel's bipartisan plan to stabilize support for local communities
Legislation would create dedicated Revenue Sharing Trust Fund
The Michigan House of Representatives on Wednesday approved Rep. Mark Tisdel's bipartisan plan to stabilize state funding for county, city, village, and township governments.
Tisdel, R-Rochester Hills, and Rep. Amos O'Neal, D-Saginaw, are the sponsors of House Bills 4274-4275, which would create a dedicated Revenue Sharing Trust Fund to distribute a portion of state sales tax dollars to local governments. Tisdel, a former Rochester Hills city councilor, said the dedicated fund will ensure local officials can count on consistent state support for their communities.
"People look to their local officials to ensure public safety, keep their communities clean, and maintain beautiful, recreational parks," said Tisdel. "Local governments need dependable funding to pay for these needs, but for far too long, state revenue sharing has been inconsistent and often insufficient. Creating a dedicated funding stream will give local officials stability and peace of mind as they provide community services and activities for residents to enjoy."
Over the past decades, changes to state law have decreased statutory revenue sharing to local governments, and because revenue sharing comes from the General Fund, state funding for local governments can fluctuate if state officials prioritize other programs. Instead, the proposed Revenue Sharing Trust Fund would set aside tax dollars that would be permanently dedicated to revenue sharing with local governments.
Under the bills, 8% of the 4% base sales tax would be deposited into the Revenue Sharing Trust Fund. The nonpartisan House Fiscal Agency projects this will set aside $601 million in the next fiscal year.
"The Revenue Sharing Trust Fund will help communities in Greater Rochester and around the state help local residents thrive," Tisdel said. "I'm grateful to my colleagues for their strong, bipartisan support of Michigan communities."
HBs 4274-4275 now proceed to the Senate for consideration.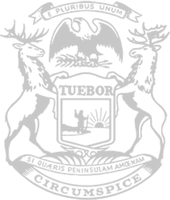 © 2009 - 2023 Michigan House Republicans. All Rights Reserved.
This site is protected by reCAPTCHA and the Google Privacy Policy and Terms of Service apply.