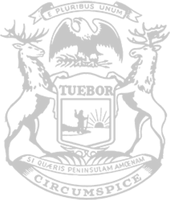 Gov. Whitmer continues making careless decisions, harming Michigan families
Column by State Rep. Beau LaFave of Iron Mountain
For almost a year now, Gov. Gretchen Whitmer has issued unilateral executive order after executive order while claiming to want to keep residents safe from COVID-19. The problem is her draconian restrictions continue to devastate people's lives and livelihoods.
The Governor has extended nearly every single one of her orders longer than promised, making it impossible for people to have any trust in what she says. All of this has been going on while thousands upon thousands of hard-working Michiganders were laid off through no fault of their own, unable to even get ahold of anyone in her unemployment office to receive a check and put food on their table.
Let me make this very clear: I understand some sacrifices needed to be made temporarily to slow the spread of the virus and not overwhelm the hospitals. I understand that working from home, if possible, was smart, and that social distancing makes sense as well. What I don't understand is why large retailers were and then weren't allowed to sell plants or paint, small gardening centers couldn't stay open at all, why residents could kayak but not use motorboats, why if you owned a second home, you weren't allowed to travel there.  I don't understand why family restaurants haven't been allowed to offer indoor seating, but allowing enclosed igloos is OK. Why you can go to the movies but can't buy popcorn. How is any of this preventing hospitals from being overwhelmed?
In fact, a study conducted by researchers affiliated with Stanford University —including Jay Bhattacharya, a professor of medicine and economics at Stanford – found that mandatory lockdown orders early in the pandemic likely did not provide more benefits to slowing the spread of the disease than other voluntary measures, such as social distancing or travel reduction. The peer reviewed study was published in the "European Journal of Clinical Investigation" on Jan. 5. Put more simply, mandatory lockdowns and closures do nothing to help public health and only destroy livelihoods, civil liberties, and create border issues.
Fast forward to today. The curve is flat, and vaccines are here. So why is the Governor still extending orders? It doesn't make any sense.
Last week, for example, Gov. Whitmer yet again extended the ban on in-person dining through an emergency order issued by the Michigan Department of Health and Human Services for Michigan restaurants. The ban was expected to end on Jan. 15, but Whitmer extended it to Feb. 1. Is anyone confident she won't move the goalposts again? These family businesses were looking forward to the light at the end of a long, dark tunnel.
What's extra frustrating is restaurants, and only a few in the entire state, contributed to a tiny fraction of COVID cases. If anything, shutting them down is the reason for private parties, which is one of the largest contributors to the spread of the virus. Wouldn't it be better to allow people to eat inside a restaurant, where CDC guidelines are being followed, than people having dinner parties at private residences where social distancing is substantially less likely?
But once again, Michigan's hard-working citizens have been told their livelihoods are nonessential. We have restaurant owners in the U.P. who were depending on the ban to end months ago. Now, I've heard from many that their businesses will not survive. And it's the same story for thousands of people throughout the state. It's ridiculous. Many have already shut their doors for good, unable to make it through the Governor's orders.
Michigan has roughly 16,500 eating and drinking establishments and they employ more than 447,000 people. Michigan Restaurants have already lost more dining days than all of the other 49 states restaurants. By percentage, Michigan's job loss in the hospitality industry has far exceeded the national average. Thousands statewide are unemployed or facing severely limited incomes because of Whitmer's dictates, which are the strictest in the nation.
I'd like to ask the Governor why our family-run business owners are being told they can't serve customers inside because of the risk of COVID, but shopping centers, grocery stores, and gas stations throughout the state are jam-packed. And why did she vetoed my bill to allow more contactless fuel sales at gas stations?
The Governor's orders and closures have impacted everyone in our state and every industry. Let's not forget the negative impact our hotels and gas stations have taken this year. In the U.P., we certainly felt the loss in our snowmobiling industry because of the restaurant closures. It's time to open up.
We have a legislative process for a reason. The Governor is supposed to work with the state House and Senate on an equal footing, yet she's been acting like a dictator for almost a year.
Her reasons behind almost every order lack transparency, common sense, aren't even backed by science, and at this point, are malicious to the thousands upon thousands of families who aren't sure if they'll be able to pay their bills or fill their cupboards for their children.
From the beginning, I've worked to protect the constitutional rights of Michigan residents. Here's a short list of some of the more-significant actions I've taken:
April 18:  I voted for Senate Bill 858, which was to reduce the duration of a disaster or emergency declaration by a governor from 28 to 14 days, at which time the Legislature may vote to extend it for a specific number of days; The Governor vetoed.
April 30: I voted for a plan to end an executive order in order to keep nursing home patients safe. The Governor vetoed. (Also on April 30, the Michigan Legislature authorized the historic lawsuit over Gov. Whitmer's powers to combat COVID-19, which we later won.)
June 17: I introduced House Bills 5863-64 to ensure all governors will be required to adhere to the Freedom of Information Act and disclose information to the public when they declare a state of emergency or disaster in Michigan;
June 26: I introduced House Bill 4792 to allow after-hours gasoline sales – a plan that could have saved many lives, especially for late night or early morning drivers, and also limited contact between customers and gas attendants. The plan passed the House and Senate but was vetoed by Gov. Whitmer in December 2020.
July 22: I joined my colleagues in voting to approve Senate Bill 956, a plan that requires the state's Health and Human Services Department (DHHS), along with the state department for Licensing and Regulatory Affairs, to complete an evaluation and report of the current policies regarding COVID-19 patients and nursing homes by Aug. 15; The Governor vetoed.
November 18: With all other options exhausted, I introduced four articles of impeachment against Gov. Gretchen E. Whitmer, citing her corrupt conduct and violating her oath of office with House Resolution 32.
It's been almost a year now of executive order after executive order, and our families are suffering from the economic and societal fallouts.  I have been trying my hardest to return Michigan to a place of normalcy, but until we get some Democrats in the Legislature to vote with us, my ability to change laws doesn't exist.
Our Governor is more extreme than all other state leaders in our nation. Even the mayor of Chicago and Governor of New York are now advocating for opening indoor dining. They have finally seen the light while Whitmer wants Michigan and California to be the only states still in the dark.
In my district, the strip club is open a couple miles down the road in Wisconsin. Everything is open. There is no mask mandate. Whitmer is making millionaires out of business owners across the river in Wisconsin, Ohio, and Indiana. I heard one bar even sent Gov. Whitmer a satirical Christmas card, thanking her for bringing them so much business.
It is unconscionable the Governor would be working harder for neighboring state families than those she claims to represent in Michigan. We're all sick and tired of the hypocrisy and lack of common sense. In March, Governor Whitmer said "Stay home, stay safe". She said it would only last three weeks. It's now been over 300 days of unilateral, unchecked, authoritarianism coming from the office of the Governor. The people are done with it.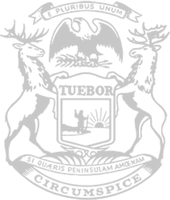 © 2009 - 2023 Michigan House Republicans. All Rights Reserved.
This site is protected by reCAPTCHA and the Google Privacy Policy and Terms of Service apply.