Ford Motor Company proves the failure of taxpayer-funded corporate welfare
RELEASE
|
September 13, 2022
Howell criticizes corporate giveaways when Ford Motor Co. cut thousands of jobs in Michigan soon after taking more than $100 million in state funds to create jobs
The recent decision by Ford Motor Company to cut 3,000 jobs—most of which are in Michigan—is a slap in the face to all Michigan taxpayers. This has come after state officials ill-advisedly signed off on a more than $100 million incentive for Ford earlier this year.
All too often, our state has been snookered into giving sweetheart deals to big corporations with their promises of employment for our citizens. This is getting to be an old story. As soon as these corporations get our money—the people's hard-earned tax dollars—they turn around and cut jobs or leave the state, or both, to go out to where the 'pasture' seems greener. This is corporate welfare at its ineffective worst. When are we going to learn?
Ford Motor Company made the job cuts official at the beginning of September. According to Ford, the overwhelming majority of the 3,000 job cuts will be at the expense of Michigan workers. I find this to be unconscionable.
Last year, the Michigan Economic Development Corporation revealed that several state lawmakers had signed non-disclosure agreements barring them from discussing any details of its projects. I promptly co-sponsored legislation to prohibit employees of state agencies and local governments from entering such secretive agreements. This came in response to the $1 billion fund that was created and signed into law last December under the guise of attracting 'large business projects' to the state. I voted "no."
I find it particularly egregious that while state leaders were signing non-disclosure agreements, Ford did not share what it knew all along regarding its future intention to slash the jobs of 3,000 dedicated workers. Now, with a much fuller understanding of the snookering that actually took place, the lawmakers who signed the non-disclosure agreements are legally bound to remain silent. Michigan's citizens are actually barred from knowing all the backroom deals that occurred with their hard-earned tax dollars. Does something seem wrong here?
Government operations and discussions should not be held behind closed doors or hidden by non-disclosure agreements—ever! This is important information for the public. They have every right to know the ins and outs of tax giveaway agreements the state makes. When someone runs for office, 'open government' and 'increased transparency' are typically part of their platform. These secretive non-disclosure agreements could not be further from this mission. However, that is clearly how Michigan's economic development officials have been conducting the public's business.
Similar wrong-headed decisions are being made at the federal level. As soon as the tax-and-spend bill labeled by Congress as an 'inflation reduction' package was passed into law, the auto companies increased their prices on electric vehicles by the same amount as the so-called 'incentives' that people will receive if they buy those same expensive electric vehicles. The corporations have played us every step of the way. These corporate giveaways must stop now! Michigan taxpayers deserve far better than they've been getting.
###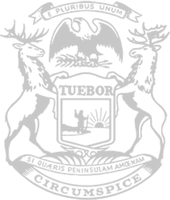 © 2009 - 2023 Michigan House Republicans. All Rights Reserved.
This site is protected by reCAPTCHA and the Google Privacy Policy and Terms of Service apply.