Defending our values
RELEASE
|
September 20, 2023
By: State Rep. Pauline Wendzel
The American Conservative Union last week released its 2022 state legislative scorecard, ranking me among the most conservative members of the Michigan House of Representatives and presented me the Award for Conservative Achievement.
In 1971, the American Conservative Union Foundation launched its ratings of Congress to provide a comprehensive evaluation of the voting records of every Member of Congress. The ratings quickly became considered the "gold standard" and over the following decades have been utilized by activists, voters, academics, and elected officials to determine which lawmakers best adhere to conservative principles. In 2011, the ratings were expanded to state legislatures, and by 2015, all 99 legislative chambers in the states were included.
The organization said in a news release that the wide range of issues addressed by its scorecard reflect "a member's adherence to conservative principles" and is "designed to give citizens an accurate assessment that conveys which of Michigan's elected leaders best defend the principles of a free society: Life, Liberty and Property."
When I ran for office, I promised the people of Southwest Michigan that I would defend commonsense conservative values in Lansing, and with this recent scorecard, I'm proud to say I delivered on my promise.
As the Energy, Communications, and Technology Committee Republican Leader, my immediate focus is protecting Michigan residents from the radical and dangerous "Green Dream" being considered by Lansing Democrats. This package undoubtedly raises monthly utility bills for Michigan families when they can least afford it while simultaneously decreasing reliability. Michigan already has a fragile distribution grid, and the last thing we need to do it jeopardize our generation capabilities by relying on unreliable and intermittent sources.
As always, I appreciate hearing from you. If there is anything my office can ever do to be of service to you, please don't hesitate to reach out at 517-373-1799 or at [email protected]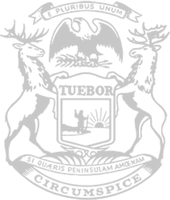 © 2009 - 2023 Michigan House Republicans. All Rights Reserved.
This site is protected by reCAPTCHA and the Google Privacy Policy and Terms of Service apply.