Chair Hernandez: New Michigan budget protects schools, local public services and taxpayers despite challenges of COVID-19
RELEASE
|
September 23, 2020
Rep. Shane Hernandez – chair of the Michigan House Appropriations Committee – today led legislative approval of a new state budget overcoming the financial challenges posed by COVID-19.
The Legislature approved a budget plan that protects support for K-12 schools, local communities and other shared top priorities of Michiganders – despite the impact COVID-19 and economic shutdowns have had on the state economy.
"This has been a difficult and challenging process – but I am proud we came together to build a fiscally conservative and responsible budget for the people of Michigan. This plan protects funding for students and local public services while also protecting taxpayers," said Hernandez, of Port Huron. "We are putting the state in a good position to handle potential budget issues in the months and years to come. This proves good things happen when government functions the way it is intended – when the governor works with the Legislature, instead of making unilateral decisions without legislative input."
Hernandez noted the plan for the fiscal year that begins Oct. 1 once again was approved without tax increases. The budget does not grow state government, returning about $35 million to the state's budget stabilization fund and leaving nearly $50 million available on the balance sheet for the next fiscal year.
The per-student foundation allowance for K-12 schools remains unchanged, but schools will receive an additional one-time payment equal to roughly $65 per student, along with other changes to increase the commitment to Michigan's school aid fund.
The budget plan also fully protects revenue sharing payments made to cities, townships and counties — helping fund for the essential local services residents across Michigan rely on every day.
Other highlights for the budget year beginning Oct. 1 include:
Public safety: Additional Michigan State Police troopers will be trained, and local-level road patrols are supported.
Jobs: The Legislature successfully continued funding for important initiatives such as Going Pro and Pure Michigan, along with investments to support rural broadband initiatives so vital to economic development.
Public health: The Legislature's efforts to fight COVID-19 continue, including $20 million to provide personal protective equipment (PPE) in skilled nursing facilities. The budget also includes resources supporting mental health, children with autism, and cleanup of PFAS and other pollution threatening drinking water.
The budget plan – contained in House Bill 5396 and Senate Bill 927 – advances to the governor for her consideration.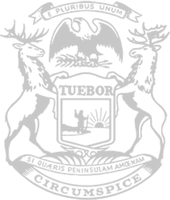 © 2009 - 2023 Michigan House Republicans. All Rights Reserved.
This site is protected by reCAPTCHA and the Google Privacy Policy and Terms of Service apply.