Bipartisan plan seeks to allow alcohol sales at college sports venues in Michigan
Rep. Filler, Sen. McCann continue advocating for fairness, freedom, public safety
State Rep. Graham Filler (R-Clinton County) and Sen. Sean McCann (D-Kalamazoo) are leading a bipartisan effort to permit universities in Michigan to sell alcohol at certain on-campus sporting events.
The legislators recently introduced measures in both the House and Senate that would allow university governing boards to apply for liquor licenses to sell alcohol at basketball, football, and hockey games.
"Giving universities the option to serve alcohol at their sporting events is about freedom, fairness, and recognizing that the responsible consumption of alcohol inside the stadium is much safer than the binge drinking that goes on in the parking lot," Filler said. "Multiple examples exist that show alcohol-related incidents inside stadiums declining after alcohol sales are allowed."
"These bills will help create parity and fairness with other states that currently allow alcohol to be served to patrons in college sporting venues," McCann said. "There is no good reason for this option to be available only for people watching the games in suites and no one else. Furthermore, there is strong evidence that points to these policies helping to reduce binge drinking on game days."
Of the 14 schools in the Big Ten, eight allow alcohol sales at football games and most have seen positive results with decreases in the number of alcohol-related incidents. After Ohio State started selling alcohol stadium wide in 2016, university police reported a 65% drop in alcohol-related incidents inside its sports venues.
State Rep. Jimmie Wilson Jr. (D-Ypsilanti) also offered his support for the plan.
"We have seen that when you regulate things in a more controlled way, in this case alcohol, you have better public safety outcomes," Wilson said. "This legislation shows that we can work together in a bipartisan effort to enhance public safety in a more regulated manner, while still promoting fairness and freedom."
House Bill 4328 and Senate Bill 247 would allow the Michigan Liquor Control Commission to issue up to three tavern licenses or three Class C liquor licenses to be used for events within the public areas of university football, basketball, and hockey stadiums. Sales would be permitted one hour before each game.
The measures have been referred to the House and Senate Regulatory Reform committees for consideration.
Filler led a similar effort in 2022, but the plan did not get brought up for a vote before the end of the legislative term.
###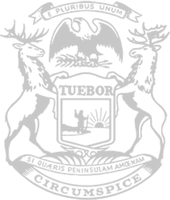 © 2009 - 2023 Michigan House Republicans. All Rights Reserved.
This site is protected by reCAPTCHA and the Google Privacy Policy and Terms of Service apply.