As COVID cases surge, Rep. Cole calls on Michiganders to practice personal responsibility
RELEASE
|
November 13, 2020
State Rep. Triston Cole, chair of the Michigan House's Northern Caucus, participated in a call Thursday with other members of the caucus and hospital leaders from Munson Healthcare and McLaren Northern Michigan to discuss their significant concerns about the current trajectory of COVID-19 cases in northern Michigan.
"Northern Michigan and the U.P. are experiencing a rapid increase in COVID cases and hospitalizations," said Todd Burch, President and CEO of McLaren Northern Michigan in Petoskey. "If the trajectory continues on its current path our region will see a substantial loss of life in the coming months. We need your help to turn this around today. Wash your hands and avoid spending time with anyone outside those in your household without a mask. It's going to get worse before it gets better, but we will get through this by protecting each other."
Cole, of Mancelona, said it's incredibly important for Michiganders to listen to the advice of doctors and take personal responsibility to slow the spread of the virus.
"We believe this virus is real. The care of patients has changed as healthcare officials learn more about it, and with improved treatment most people can go home for care under their primary care physician. However, that doesn't mean the escalating numbers are not a threat to our loved ones," Cole said. "My family will be vigilant with hand washing and wearing masks because I have high risk immediate family members. This does not make me unpatriotic; it shows that I care about my daughter."
Cole went on to say, "Please use your common sense when you are in public, wash your hands and stay out of people's faces. This is not hard, and it is necessary to help slow the spread of the virus."
Both Munson Healthcare and McLaren Northern Michigan in Petoskey have seen regional COVID-19 cases rising in recent weeks.
"For Munson Healthcare, our percent positive rate has more than doubled over the last four weeks and our positive cases per 100,000 people has increased by eight times over the same time period," said Ed Ness, President and CEO of Munson Healthcare. "In addition, the rise in community spread throughout our region is causing clinical staff, support staff and providers to quarantine, making staffing challenges more significant than what we experienced earlier in the pandemic."
Munson Healthcare is urging everyone to take personal responsibility and do their own part to reduce community spread of COVID-19.
"None of us want to stop long-held traditions of deer hunting camps and holiday dinners. But this year, the importance of masking, social distancing, hand hygiene, and smaller gatherings could represent the difference between keeping healthcare services open and available in our region or placing further stress on our limited resources in northern Michigan and across the state," Ness said.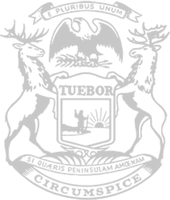 © 2009 - 2023 Michigan House Republicans. All Rights Reserved.
This site is protected by reCAPTCHA and the Google Privacy Policy and Terms of Service apply.