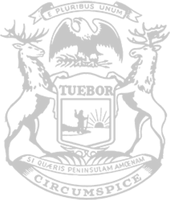 District 99
Contact
ABOUT THE REPRESENTATIVE

District
State Rep. Roger Hauck was first elected to the Michigan House in 2016. He represents the 99th District, which encompasses all of Isabella County and ten townships in Midland County.
Committees
Rep. Hauck serves as chair of the House Regulatory Reform Committee and as a member of the Health Policy, Government Operations, and Communications & Technology committees.
Education
Rep. Hauck graduated from Beal City High School and attended Central Michigan University.
Professional
Rep. Hauck grew up on a beef and dairy farm, and worked for the Delfield Company for 24 years. He also co-owns a small building company.
Public Office and Affiliations
Rep. Hauck is a former Union Township trustee. He is a member of the National Rifle Association, Michigan Farm Bureau, Mt. Pleasant Sacred Heart, and Eagles Club.
Personal
Rep. Hauck and his wife, Raschelle, have two adult children. Hauck enjoys bow hunting and fishing. He also enjoys riding his Harley Davidson motorcycle.
District Map

Contact Info
Lansing Office
Anderson House Office Building
S-1288 House Office Building
Lansing, MI 48933
Mailing Address
S-1288 House Office Building
P.O. Box 30014
Lansing, MI 48909
Phone: (517) 373-1789
Email: [email protected]
© 2009 - 2021 Michigan House Republicans. All Rights Reserved.
This site is protected by reCAPTCHA and the Google Privacy Policy and Terms of Service apply.