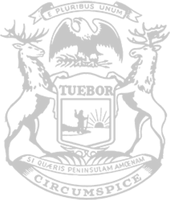 District 51
Contact
ABOUT THE REPRESENTATIVE

District

Rep. Mueller serves the 51st House District, which encompasses parts of Genesee County and Oakland County, including Argentine, Atlas, Clayton, Fenton, Flushing and Gaines townships, Goodrich Village, and the cities of Linden and Fenton. Within Oakland County, Rep. Mueller represents the townships of Groveland, Holly, and Rose, and Holly Village.
Committees
Rep. Mueller serves as chair of the House Committee on Government Operations and as vice-chair of the Judiciary Committee. He also serves on the Health Policy, and Regulatory Reform  committees.
Education
Mueller is a 1992 graduate of Linden High School and played a year of Junior "A" Hockey prior to enlisting in the United States Navy. After receiving an honorable discharge from the Navy, Mike went on to attend Eastern Michigan University, serving as captain of the hockey team, and earning a degree in Criminology and Criminal Justice. He attended the Washtenaw County Community College Police Academy where he was selected as the class vice president and was awarded the "Outstanding Performance Award" by the Michigan Commission on Law Enforcement Standards, graduating in 1999.
Professional
Mueller was a road patrol deputy with the Washtenaw County Sheriff's department before taking a job with the Livingston County Sheriff's department in 2005. He now runs his family orchard, part of the Linden community since 1941.
Personal
Mike and his wife Angela have three sons and one daughter.
District Map

Contact Info
Lansing Office
Anderson House Office Building
S-985 House Office Building
Lansing, MI 48933
Mailing Address
S-985 House Office Building
P.O. Box 30014
Lansing, MI 48909
Phone: (517) 373-1780
Email: [email protected]
© 2009 - 2021 Michigan House Republicans. All Rights Reserved.
This site is protected by reCAPTCHA and the Google Privacy Policy and Terms of Service apply.