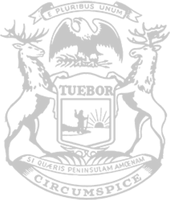 District 105
Contact
ABOUT THE REPRESENTATIVE

District
Rep. Ken Borton has represented Northern Michigan in the state House of Representatives since 2021. He serves the 105th House District, which includes Crawford, Missaukee, Otsego, and Roscommon counties and parts of Antrim, Kalkaska, and Oscoda counties.
Committees
Ken serves on the influential House Appropriations Committee, which handles the state budget. He also serves as the Republican vice chair on the Agriculture and Rural Development and Natural Resources Appropriations subcommittee and as a member on the Transportation and Licensing and Regulatory Affairs and Insurance and Financial Services Appropriations subcommittees.
Legislative priorities
Ken serves as the House Republican caucus chair. He sponsored a bipartisan set of new laws to help Michigan's agriculture industry keep thriving by ensuring producers can export products. He also helped spearhead laws to strengthen oversight measures that help protect customers of insurance companies, bringing Michigan in line with the current standards. Northern Michigan is always Ken's focus, and he has led efforts to help preserve snowmobile trails and eliminate bureaucratic mandates that threaten recreational bird feeders with criminal penalties.
Education
A Michigan native, Ken grew up in Romeo. He studied Biblical counseling at Liberty University.
Professional
Ken has more than 40 years of real estate and property management experience. Before he was elected to the House, Ken served his community for 10 years on the Otsego County Board of Commissioners. During that time, his colleagues elected him chair. He was also actively involved with the Michigan Association of Counties, serving as president of the organization's Board of Directors.
Personal
Ken and his wife, Brenda, live in Gaylord. They have two children and enjoy spending time with their grandchildren. Ken is also an avid outdoorsman; he loves to feed and observe birds and other Northern Michigan wildlife.
District Map
Contact Info
Lansing Office
Anderson House Office Building
S-1389 House Office Building
Lansing, MI 48933
Mailing Address
S-1389 House Office Building
P.O. Box 30014
Lansing, MI 48909
Phone: 517-373-0829
Email: [email protected]
© 2009 - 2023 Michigan House Republicans. All Rights Reserved.
This site is protected by reCAPTCHA and the Google Privacy Policy and Terms of Service apply.