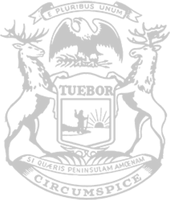 District 104
Contact
ABOUT THE REPRESENTATIVE

John Roth is the former chair of the Grand Traverse County Republican Party and six-year member of the county's Parks and Recreation Commission. Roth moved to Grand Traverse County in 1987 with his wife of 32 years, a nurse at the local hospital. The couple has two teenage daughters.
Roth runs a marina and does lawn maintenance at a local country club in the summer. In the winter, he works at a ski house. Roth graduated with a degree in marina management from Northwestern Michigan College.
Committees:
Roth serves as a member on the House Agriculture, Economic Development and Small Business, Transportation, Mobility, and Infrastructure, and Health Policy committees.
Roth served as vice-chair of the Commerce and Tourism Committee and also served on the Energy, Families, Children, and Seniors, Health Policy, and Transportation committees in the 2021-2022 legislative term.
District Map
Contact Info
Lansing Office
Anderson House Office Building
S-1388 House Office Building
Lansing, MI 48933
Mailing Address
S-1388 House Office Building
P.O. Box 30014
Lansing, MI 48909
Phone: (517) 373-1766
Email: [email protected]
© 2009 - 2023 Michigan House Republicans. All Rights Reserved.
This site is protected by reCAPTCHA and the Google Privacy Policy and Terms of Service apply.