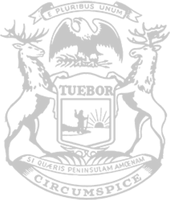 District 93
Contact
ABOUT THE REPRESENTATIVE

District
Rep. Graham Filler was first elected to serve in the Michigan House of Representatives in November 2018. He represents the 93rd House District, which encompasses portions of Clinton, Gratiot, Ionia, Montcalm, and Saginaw counties.
Committees
Filler serves as the Republican vice chair on the House Criminal Justice Committee. He also serves as a member on the Health Policy Committee and Regulatory Reform Committee.
Previously, Filler chaired the House Judiciary committee and served as a member of the Agriculture, Elections and Ethics and Health Policy committees.
Legislative Accomplishments
Since becoming a state representative, Filler has led efforts to improve Michigan's criminal justice system. He earned national attention for spearheading reforms to expand the number of individuals eligible for expungement, opening new doors for people to access new and better employment, education and housing opportunities.
Filler also led the effort to commission an independent study on nuclear energy generation in Michigan. As coal-fired power generation plants are shuttered, the study will consider the baseload Michigan is losing and examine the viability of modern nuclear energy options to ensure Michigan families have access to reliable energy they can afford.
Education
Filler was born and raised in Ovid, graduating from Ovid-Elsie High School in 2002. He went on to Miami University in Ohio where he earned a bachelor's degree in politics, philosophy, and law. He then earned his law degree from the University of Detroit Mercy in 2009.
Professional
From 2011 to 2018, Filler served as an assistant attorney general with the Michigan Attorney General's Office. During this time, he worked closely with crime victims and members of law enforcement, gaining a deep appreciation for police officers and the work they do to protect the communities they serve. Filler also served as an assistant attorney general for the Michigan Public Service Commission, helping ensure affordable and reliable energy service for the people of Michigan.
Personal
Filler and his wife Alicia live in Clinton County with their two children, Claire and Christian. An active volunteer, Filler is involved with the St. Johns Kiwanis club, SafeCenter, and Big Brother Big Sisters.
District Map
Contact Info
Lansing Office
Anderson House Office Building
N-1197 House Office Building
Lansing, MI 48933
Mailing Address
N-1197 House Office Building
P.O. Box 30014
Lansing, MI 48909
Phone: (517) 373-1778
Email: [email protected]
© 2009 - 2023 Michigan House Republicans. All Rights Reserved.
This site is protected by reCAPTCHA and the Google Privacy Policy and Terms of Service apply.