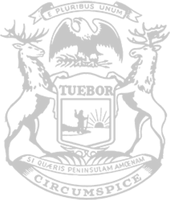 District 81
Contact
ABOUT THE REPRESENTATIVE

District
State Rep. Gary Eisen was first elected to serve the 81st District in the Michigan House of Representatives in November 2018. The 81st District encompasses parts of St. Clair County, including Lynn, Berlin, Emmett, Brockway, Greenwood, Grant, Clay, Clyde, Port Huron, St. Clair, East China, China, Cottreville and Mussey Townships, as well as the cities of Yale, St. Clair, Marine, Marysville and Algonac.
Committees

Rep. Eisen serves as vice chair of the House Transportation Committee. He is also a member of the Natural Resources and Outdoor Recreation, Military, Veterans, and Homeland Security, and Workforce Trades & Talents committees.
Professional and Public Office Affiliations
Eisen is a small business owner with over 35 years of experience. Gary owns Eisen Inc., specializing in welding, fabrication and repairs. He serves as national sports chair for AAU USA Target Shooting. Gary teaches American Warrior Martial Arts classes and is a member of the AUUO non-profit sports association. He is a member of St. Peter's Church and has served on the Church Council for the past four years.
Personal
Gary and his wife Annie currently reside in St. Clair Township.
District Map

Contact Info
Lansing Office
Anderson House Office Building
S-1185 House Office Building
Lansing, MI 48933
Mailing Address
S-1185 House Office Building
P.O. Box 30014
Lansing, MI 48909
Phone: (517) 373-1790
Email: [email protected]
© 2009 - 2023 Michigan House Republicans. All Rights Reserved.
This site is protected by reCAPTCHA and the Google Privacy Policy and Terms of Service apply.