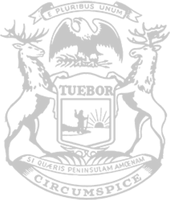 District 35
Contact
ABOUT THE REPRESENTATIVE

ABOUT THE REPRESENTATIVE
District
State Rep. Andrew Fink was first elected to serve the 35th District in the Michigan House of Representatives in November 2020. The district encompasses all of Branch and Hillsdale counties, and the city of Hudson in Lenawee County.
Committees
Rep. Fink serves as Republican vice chair of the House Judiciary Committee.
Last term, he served as vice chair of the House Appropriations Subcommittee on Military and Veterans Affairs and State Police, and also as a member of the House Licensing and Regulatory Affairs, Insurance and Financial Services, and General Government Appropriations subcommittees, as well as the Health Policy Committee.
Education
Rep. Fink graduated from Hillsdale College in 2006 with a B.A. in Politics. He then earned his J.D. from the University of Michigan Law school in 2010.
Professional
Before taking office, Rep. Fink went into active duty and worked as a judge advocate for Marines and their families. He left the military as a captain in 2014. In 2017, he moved to Hillsdale from Ypsilanti to open a local office of his family's law firm, Fink and Fink.
Public Office and Affiliations
Rep. Fink is a member of the NRA, the American Legion, and the Federalist Society. He has served as an elder at his church and as a commissioner-at-large of the State Bar of Michigan. He is also a musician and has played guitar at schools, church, community events and fundraisers.
Personal
Rep. Fink has been married to Lauren for 14 years and they live in Adams Township. They have five young children, two cats, and a collie.
District Map
Contact Info
Lansing Office
Anderson House Office Building
N-799 House Office Building
Lansing, MI 48933
Mailing Address
N-799 House Office Building
P.O. Box 30014
Lansing, MI 48909
Phone: (517) 373-1788
Email: [email protected]
© 2009 - 2023 Michigan House Republicans. All Rights Reserved.
This site is protected by reCAPTCHA and the Google Privacy Policy and Terms of Service apply.